BUILDING INFORMATION
The building will be open for public use according to the schedule below.
May 1 - October 31
Sunday
Closed
Monday-Saturday
8:30 am-6 pm
November 1 - April 30
Sunday
Closed
Monday-
Friday
8:30 am-9:30 pm
Saturday
8:30 am-6 pm



*Administrative Hours
(Closed on Holidays):
Monday-Friday 8:30 am-4:30 pm

The Community Center will be closed for public and private use according to the schedule below:
Holiday Obervance Days:
*Memorial Day: Last Monday of May
*Independence Day: July 4
*Labor Day: 1st Monday of September
Thanksgiving: 4th Thursday of November
Day After Thanksgiving: 4th Friday of November
Christmas Eve: December 24
Christmas Day: December 25
New Year's Eve: 7:30 pm Closing
New Year's Day: January 1
*The Community Center Pool will be open.
The Parks and Recreation Administrative Offices will be closed, but the building open to the public according to the schedule below:
Martin Luther King Day: 3rd Monday of January
Presidents' Day: 3rd Monday of February
Good Friday: Varies
General Election Day: Varies
Columbus Day: 2nd Monday of October
Veterans' Day: November 11
*The facility will be utilized as a high school
age drop-in recreation center from
2:30 pm-5 pm during the school year (late August-mid June).
Please see the KCCC Policies and Procedures for more information about the building, as well as rules and regulations.
MULTI-PURPOSE FITNESS ROOM
Whether it's a Treadmill, an Elliptical, Recumbent Bike, Stair Stepper, or our new Spin Bike, the Multi-Purpose Room has the right cardio equipment for you. We also offer a variety of hand weights, body bars, medicine bars, and stability balls to enhance our workout, and recently added- a free standing training punching bag. Patrons must be 12 or older to utilize the Multi-Purpose Room. Children under the age of 12 will not be permitted, regardless if accompanied by an adult 21 or older. Daily access to the Multi-Purpose Room is available for FREE to all Facility Access Card holders.
Call 410-778-1948 or email info@KentParksAndRec.org for more information.
CONCESSION STAND
KCPR operates the pool concession stand each pool season. We are ready to serve you! The concession stand will generally be
open from 12 pm-6:30 pm when the pool is open (weather permitting). Menu items include hotdogs, burgers, pizza, soft pretzels, nachos, mozzarella sticks, fries, assorted chips, ice cream, and drinks. Cold sandwiches are available beginning mid June. Special items will be available while supplies last throughout the month of July. For more information please call the Kent County Parks and Recreation main line at
410-778-1948.

Food in delivery containers is not permitted inside pool gates. For a more detailed review of Kent County Community Center Pool policies click here.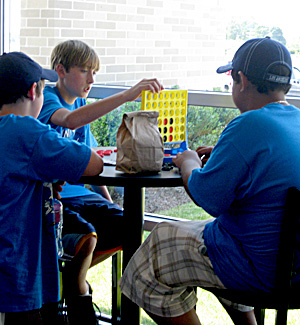 INCLEMENT WEATHER
ANNOUCEMENT POLICIES
Weather closing information and general announcements are posted on the Parks and Recreation home page bulletin board, the Kent County Community Center Facebook Page and our Weather Cancellation Hotline at
410-810-3755 (usually no later than 7:30 am or 3 pm for evening programs the day in question when weather related). Whenever possible (we will do our best, but can't guarantee this will always happen), a courtesy email will be sent to individuals who have provided an email address for announcements and notifications. If you do not receive an email and weather is questionable, please visit our website homepage or Facebook page or call the Weather Cancellation Hotline. To be added to our email list please send an email to info@KentParksAndRec.org and request to be added.
Kent County Community Center: In general, when Kent County Public Schools close, close early, or cancel evening programs due to inclement weather, all regularly scheduled Parks and Recreation programs at al schools are closed. In this case (generally), the Community Center and Parks and Recreation facilities will be open to the public on a drop-in basis when Kent County Government is open, however the operating schedule may be adjusted as needed as weather conditions warrant or in case of emergencies. If Kent County Goverment offices have a delayed opening or liberal leave is in effect, all morning programs starting before 10 am are closed.
School Year (September-May): In general, if Kent County Public Schools (KCPS) are closed, close early, or cancel evening programs, all programs at public school sites are closed. Kent County Parks and Recreation (KCPR) youth programs at the Kent County Community Center (KCCC) and KCPR facilities are closed when county facilities remain *open. KCPR adult programs at county facilities will be open when county facilities remain *open. If KCPS is one hour or 90 minutes late, morning programs will be open. *If KCPS is two hours late, morning programs will be closed. These general policies do not necessarily apply to programs offered by private vendors (please refer to program description) at the Community Center as they determine their opening and closing schedules when the Community Center remains *open on a normal operating schedule when there is inclement weather.
*All programs are closed when the Snow Emergency Plan or the State of Emergency Plan is in effect, however, should Plan(s) be lifted by 2 pm, evening adult programs will generally be open. In consideration of other factors, programs may be cancelled. This will be determined on a case by case basis.
*On a case by case basis when KCPS are two hours late, it may be determined that morning adult programs may be open when the KCCC is open on time.
Weekend/Summer: In general, announcements for weekend and/or summer programs and events held at the KCCC or a KCPR facility are posted by 8 am on the day in question. Decisions for programs with a start time before 8 am will be posted by 10 pm the night before.
SASSAFRAS ENVIRONMENTAL EDUCATION CENTER

Discover all of the hidden wonders the Sassafras Environmental Education Center has to offer. Call 410-348-5214 for more information. You can also find them on Facebook @ESLCatSEEC or visit eslc.org/environmental-education.
FACILITY ACCESS CARD
(expires one year from date of purchase)
In-County Rates
Youth 12-21:
$5
Adults 22-54:
$10
Seniors 55+:
$5
Out-of County Rates
Youth 12-21:
$10
Adults 22-54:
$20
Seniors 55+:
$10
Family Plan
(must reside in the same Kent County household and discount only given if purchased in a single transaction)

Family of 4:
$25
Each additional family member: $3
Replacement cards are double the
original fee.
Organizational Facility Access Card
Download Application here.

(Kent County care based organizations)
Maximum of 15 attendees per visit: $45
Attendance must be during public hours
Must call ahead to confirm drop-in availability and provide an attendance sign in sheet listing attendees.
The benefits of the Facility Access Card include:
State of the art facility
WiFi throughout facility
Use of lobby game tables (ping pong, billiards, air hockey, and foosball)
Kent County Public Library Computer Facility (pay per print)
Open Gym
Open Multi-Purpose/Fitness room (Use by patrons under the age of 16 requires in-room supervison by an adult age 21 or older at all times)
Discounted room rental rates
Discounted daily pool admission
AFTER SCHOOL MIDDLE AND HIGH SCHOOL AGE DROP-IN RECREATION CENTER
| | |
| --- | --- |
| Ages: | Middle School and High School Age Students |
| Dates: | First-Last day of school (full days only) |
| Days: | |
| Times: | |
| Place: | |
| Cost: | Free with Facility Access Card |
School's over, but you're not ready to go home yet? Come to the Community Center for some open gym time and bring your friends! This is a great opportunity to come relax after the school day, get your homework done, and hang out with friends in a safe environment.
Call 410-778-1948 or email info@KentParksAndRec.org for more information.
FREE Transportation to the After School Drop-In Recreation Center
Ages:

6th-8th Grade Middle School Age Youth

Dates:
February 4th - May 31st
Days:
Monday-Thursday
(when school is in session a full day)
Time:

3:00 pm - 5:00 pm
School's over, but you aren't ready to go home yet? The After School Drop-In Recreation Center is a fun, safe and caring place to play foosball, air hockey, ping-pong, board games, basketball, work on homework projects, use computers, watch television or just lounge and have a good time with friends. Registered middle school age youth will be provided a snack and drink each day.

Fully completed and signed registration and additional forms (Rules, Code of Conduct and Rules for the Ride) must be returned to Parks & Recreation staff at the KCCC before registration is confirmed and before transportation will be provided
For more information please call 410-778-1948 or email info@KentParksAndRec.org or click on the following link Informational Letter and Additional Forms.
WASHINGTON COLLEGE
COLLEGE CORNER
In partnership with the Office of Admissions at Washington College, Washington College offers a College Corner at the Community Center. Members of the Washington College staff, including students, will periodically provide general college counseling support and information specific to the school. If you, or a student you know, have general questions about attending college, would like assistance in the college search process, the application, financial aid, or would like to know more about the life of a college student, please call the Washington College Office of Admissions. Students and families are both welcomed. Representatives will be on site from 2:45 pm-4:45 pm during after school hours by advance appointment. Materials will be available at the College Corner during the normal business hours of the Community Center. Contact the Washington College Admissions Office at
410-778-7700 for more information.
KENT COUNTY PUBLIC LIBRARY
WORTON COMPUTER FACILITY
The Kent County Public Library (KCPL) in partnership with Kent County Parks and Recreation (KCPR) offers the KCPL Worton Computer Facility at the Kent County Community Center. The Computer Facility has seven computers available for public use and that are equipped with Internet access, a wide range of online library resources, and educational games. We also currently offer the use of laptop computers for use while on the premises on a first come first serve basis to patrons age 18 and older. The computers are governed by the KCPL computer use policy. In addition there are books available to borrow on the "trust system". The facility will be monitored by KCPR staff. Patrons do not need to have a Facility Access Card (FAC) or Library Card to use the Worton Computer Facility or books however, if you do not have a FAC, a Guest Pass will be required to be issued at the front desk upon entry to the Community Center.
KENT COUNTY COOLING/WARMING CENTER
During extreme heat/cold days during the summer/*winter season (typically July/August and January-March), when activated, the Kent County Community Center (KCCC) Building will serve as one of the County's official cooling/warming centers during its *normal hours of operation. Information will be posted on the chalkboard on our home page and on our Facebook page (Kent County Community Center) when cooling centers are recommended by the Maryland Department of Health and Mental Hygiene. Normal policies and procedures apply for accessing the Community Center outside of cooling/warming center days, including fees as applicable.
*After hours during the winter, people in need of a place to get out of the cold should contact Kent County Department of Human Services (formerly Social Services) at 410-810-7600 for assistance.
HORIZONS DANCE WITH THE STARS

The bi-annual Horizons of Kent and Queen Anne's Counties "Dance with the Stars" fundraiser takes place at the Community Center, as seven Stars and their dance-pro partners compete for donations for Horizons, a summer enrichment program for low-income public school children in Kent and Northern Queen Anne's County. The event gets underway at 6 pm with a cocktail buffet and the show is slated to begin at 6 pm. In addition to proceeds from ticket sales the Horizons program benefits from the cash votes cast for the dancers.

The next event is scheduled to take place on Saturday, February 2, 2019.

You can buy tickets and vote for your favorite dancers at horizonskentqueenannes.org.
For questions, please email horizonsofkqa@gmail.com or call the Horizons office at 410-778-9903.
KENT COUNTY COMMUNITY CENTER

CLARENCE A. HAWKINS, SR. BUILDING

On October 4, 2016 the County Commissioners of Kent County renamed the facility in grateful acknowledgement of Mr. Hawkins' distinguished and dedicated public service to the people of Kent County and the State of Maryland. Mr. Hawkins served Kent County Public Schools from 1960-1993, was a Kent County Comissioner from 1993-1998, was a Delegate at the Democratic National Convention in 1996, and served on the State of Maryland Department of Education from 2001-2005.