View the Pool Use Rules here.
BAYSIDE LANDING POOL (Outdoor Pool) (FREE ADMISSION): 410-810-2288 (Seasonal)
20927 Bayside Avenue, Rock Hall, MD 21661
Bayside Landing Park is located off of Bayside Avenue in Rock Hall and is centered along the Rock Hall Harbor. The public swimming pool is open Thursday through Sunday, 12 pm-6 pm (from Memorial Day weekend through Labor Day, with weekends only when Kent County Public Schools are in session) and has a renovated bathhouse with *restroom facilities. Bayside Landing also features deep water, dual boat ramps, and 39 boat slips (please call the County Public Landings office at 410-778-7439 for more boat ramp and slip details). A walkway joins the park and the public bulkhead which hosts various special events throughout the year.
*The hours the restroom facilities are open to the public are during the Town of Rock Hall special events when the public swimming pool is open on weekends only, Saturday - Sunday, Memorial Day weekend through Labor Day; and Thursday and Friday when Kent County Public Schools are not in session, generally mid-June through the weekend before schools reopen in late August. View the Pool Facility Rules here. Call 410-778-1948 or email This email address is being protected from spambots. You need JavaScript enabled to view it. for pool rental information.
*For the last two-three weeks of the season, the hours of operation at Bayside Landing Pool will be modified ending the season before Labor Day weekend.
FREE ADMISSION to Bayside Landing Pool! Safety is our number one priority. At the discretion of lifeguards on duty, when maximum capacity limitations are reached, entry will be monitored and may result in limited entry. Thank you in advance for your understanding and cooperation!
MILLINGTON POOL (Outdoor Pool): 410-810-2980
154 Millington Road, Millington, MD 21651
The Millington Pool is open Tuesday through Sunday, 12 pm-6 pm, (from Memorial Day weekend through Labor Day, with weekends only when Kent County Public Schools are in session), and features a bathhouse with *restroom facilities, tennis and pickleball courts, and a picnic grove. Millington Pool is closed to the public on Mondays except on Memorial Day and Labor Day. Pool rentals include exclusive use of the pool outside normal operating hours and includes lifeguards. Kent County residents are admitted free of charge and will be issued a Facility Access Pass per the Pilot Program requirements. Call 410-778-1957 or email This email address is being protected from spambots. You need JavaScript enabled to view it. for pool rental information.
*For the last two weeks of the season, the hours of operation at Millington Pool will be modified, ending the season before Labor Day.
MILLINGTON POOL FACILITY ACCESS PASS (FAP) PROGRAM
~ Approved by the Board of County Commissioners of Kent County on March 3, 2020~ Kent County Government reserves the right to amend the program, fees and guidelines.
In an effort to ensure Kent County Parks and Recreation (KCPR) staff are famililar with and can identify patrons who enter and utilize Millington Pool, all patrons age 3 and older must have and present a County issued Facility Access Pass (FAP) with a photo of the pass holder to enter and utilize Millington Pool, following established pass issuance requirements and guidelines. Patrons under 12 years of age must be accompanied and supervised by a responsible Facility Access Pass holder age 16 or older for admittance.
Download the details of the (FAP) program, including the guidelines for issuance of FREE passes to Kent County residents here.
Call 410-778-1948 or email This email address is being protected from spambots. You need JavaScript enabled to view it. for more information.
COMMUNITY CENTER POOL (Outdoor Pool): 410-810-2979
11401 Worton Road, Worton, MD 21678
The pool will be open for public use weekends only from Memorial Day weekend through mid June and late August through Labor Day, when Kent County Public Schools are in session, from (day after Labor Day through day before May opening) 12 pm-6 pm. The pool will be open daily from Noon until 6 pm during the summer months when Kent County Public Schools are not in session.

View the Kent County Community Center Pool Use Policies here.
Call 410-778-1948 or email This email address is being protected from spambots. You need JavaScript enabled to view it. for more information.
The Community Center also features a concession stand that is open for business and ready to serve you from May through September (weather permitting).
POOL USE RULES
ALWAYS FOLLOW INSTRUCTIONS FROM LIFEGUARDS.
Pay attention to lifeguard whistles and announcements that follow.
All swimmers must shower before entering pool.
NO HORSE PLAY! NO RUNNING! NO PROFANITY/FOUL LANGUAGE! NO UNDUE DISTURBANCE TO OTHERS!
NO glass containers or breakable objects.
NO TOYS (including noodles), balls, inner tubes, inflated boats, bubbles, rings, back floats, one-sided flotation device, rafts, and air-filled swimming aids in the main pool during public swim hours. Small toys MAY BE allowed in the wading pool at the Department's discretion.
U.S Coast Guard approved personal flotation devices, water wings (swimmies/puddle jumpers) may be worn.
Use of the wading pool is restricted to children five (5) years old and under. Each child must be supervised at pool side by a responsible person at least sixteen (16) years old. Children must not be left unattended.
All infants and toddlers must wear a swim diaper in the pool (swim diapers available for purchase at pool office).
Any adult or child who is experiencing any diarrhea, even a mild case, is prohibited from using the pool.
APPROPRIATE SWIMWEAR REQUIRED! Pool users must wear swimming suits or trunks upon entry into the pool.
-"Street clothes," *Brazil/French-cut, *thong style and/or *revealing swim wear (including see through), cut-off jeans, jeans, skirts, shorts, sport bras, leotards, leggings, dri-fit wear, compression shorts and compression shirts are prohibited. Underwear and undergarments are not allowed to be worn under swimsuits. Patrons with *inappropriate swimwear as listed above or otherwise will be required to change into appropriate attire, otherwise will be asked to leave the premises.
-Swimwear must not have been worn for exercising immediately prior to pool use and must be colorfast and of a lightweight material suitable for swimwear. White t-shirts may be approved to be worn for modesty or medical reasons.
Swim skills test required at discretion of the lifeguards.
Children under (12) years old must always be accompanied by a parent or responsible person (16) years old or older in swim attire, including in water, on deck and in the restroom.
Children under the age of six (6) must have a responsible person in the water with them and within arm's reach of the child.
Swimmers must be at least 4 feet (48 inches) tall to enter the tube slide.
Lap swimming in lanes only - NO hanging on lane markers.
Single groups shall not monopolize any area of the pool and thereby limit its use by intimidating others.
Pool may close at any time without warning due to water quality or weather conditions.
Admission to the pool may be denied for any of the following reasons (list is NOT inclusive of all reasons):
-Maximum bather load reached;
-Intoxication;
-Open sores, wounds, skin infections, and nasal or ear discharges; and
-Any condition or evidence, which in the opinion of management would jeopardize the health and safety of others.
Food or refreshments must be consumed only at the concession stand or other designated areas. All trash must be deposited in designated receptacles. Please recycle. Food is NOT permitted in the bathhouse.
-Food in delivery containers is not permitted inside the pool gates.
The pool will be closed and cleared for a fifteen (15) minute safety break at a minimum of four (4) times a day.
-Adult lap lanes will remain open during this time.
Refunds may be issued at the Community Center Pool if the facility must be closed due to weather or equipment malfunction.
-Refunds will only be issued to those admitted within (30) minutes of the closure.
-Receipt must be presented for refund - no exceptions!
The department reserves the right to refuse admittance into any county swimming facility when the capacity of the pool has been reached or when otherwise deemed necessary for the health, welfare, or safety of patrons.
Management, including lifeguards and administrative employees reserves the right to refuse admittance to, or eject from the pool premises, any persons failing to comply with any rule.
Lifeguards and administrative employees have full authority of the pool facility and grounds and are authorized to enforce regulations.
-Patrons who do not comply with regulations will be asked to leave the premises.
-Failure to leave premises after so directed shall be considered criminal trespassing.
Management, including lifeguards and administrative employees, reserves the right to implement additional regulations as deemed necessary.
View the Pool Use Rules here.
BETTERTON BEACH
5 Ericsson Avenue, Betterton, MD 21610

**When lifeguards are not on duty, SWIM AT YOUR OWN RISK**

This 5.2 acre waterfront park offers a sandy beach with a volleyball court, bathhouse, Mary Roe Walkup Picnic Pavilion, stone fishing jetty, and transient boat launching ramp (please call the County Public Landings office at 410-778-7439 for more boat ramp details). SWIM AT YOUR OWN RISK. Dogs are not permitted on the beach. Grilling is only permitted in the pavilion area, not on the beach. View Betterton Beach Regulations here.
Call 410-778-1948 or email This email address is being protected from spambots. You need JavaScript enabled to view it. for more information.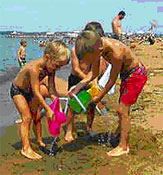 KENT COUNTY BEACH ADVISORIES
The Kent County Health Department, Environmental Health Services Department conducts regular water quality tests to determine bacterial levels. When bacterial levels exceed acceptable levels, swimming in open water such as beaches is not recommended.

View the most up to date beach advisory information here.
Call the Environmental Health Services Department at 410-778-1361 for more information.
Rainfall Advisory
After rainfall, individuals should exercise caution and avoid swimming/direct water contact for at least 48 hours due to predicted high bacterial levels.
FAQ
View the frequently asked questions for beach health and swimming safety here.
Practice Healthy Beach Habits
View the tips on how to prevent water-related illnesses here.
Marylander's Guide to Skin Wounds and Water Contact
View the information on Vibrio and how to prevent infection here.
MDE's Current Conditions Map
View the interactive map showing current beach conditions throughout Maryland here.
BETTERTON BEACH REGULATIONS
**When lifeguards are not on duty, SWIM AT YOUR OWN RISK**
Parking lot and public landing closed 10:00 pm until 5:00 am.

Park in designated parking areas only. Violators will be towed at vehicle owner's expense.

Beach and pavilion closed dusk to dawn.

Keep the beach clean-deposit trash in proper containers.

When Lifequards are not on duty, SWIM AT YOUR OWN RISK.

Swim in designated swimming areas only.

NO jumping or swimming from the jetty or pier.

NO alcoholic beverages permitted without a permit.

NO glass containers permitted.

NO apparatus permitted to be hung from trees.

NO pets permitted on public bathing beach (sand) during public beach permit season (May-September). Pets must be leashed.

Gas, propane and or table top grills not permitted on beach or grass area. Grills not permitted under low hanging trees.

Pop up tents permitted on beach (sand) only and must be at least ten (10) feet behind lifeguard stand when liefguards are on duty. Pop up tents not permitted in grass area.

Groups of ten (10) or less permitted to assemble in grass area and do not require a permit.

Set up of tables and chairs is restricted to no more than ten (10) fold up chairs two (2) fold up tables (maximum table size 4'X4') per group. Larger tables not permitted.

Music content and volume must not cause undue disturbance to others. Portable speakers are not permitted.

Skateboards, roller skates/blades, and bicycles are not permitted on boardwalk and in picnic pavilion.

Lifeguards, Parks & Recreation employees and Public Works employees have full authority in the park, on the beach and in the parking lot, and are authorized to enforce regulations.

Violators who do not comply with regulations will be asked to leave the premises. Failure to leave premises after so directed shall be considered criminal trespassing.

Kent County Government reserves the right to implement additional regulations as deemed neccessary.
Call 410-778-1948 or email This email address is being protected from spambots. You need JavaScript enabled to view it. for more information.
Still Pond Station Park 24188 Still Pond Neck Road, Worton, MD 21678
Acquired in 2003 under the Department of the Interior's National Park Service Federal Lands to Parks program, this 11 acre passive recreation waterfront property boasts a beautiful view of Still Pond Creek. Still Pond Station Park is currently an undeveloped park with no bathroom facilities or trashcans. As a trash-free park, patrons are required to bring their own trash bag and take trash with them after each visit. The facility has an extremely narrow shoreline with limited space to accomodate patrons. The County is making plans for developing the park in the future (picnic pavilion, playground, swings, restrooms and parking lot improvements). The boat ramp is for launching non-motorized watercrafts only and is not a public landing. The USCG owns a portion of the property and operates as a seasonal USCG location from April through October and monitors waterways and grounds. The beach and grounds are also monitored by the Department of Parks and Recreation, Department of Public Works and Kent County Sheriff's Office. Swimming is at your own risk.